For the ninth-straight game, the Eagles defense allowed 21 points or fewer, and the unit's performance against an explosive Lions offense was its best to date, giving up just 228 total yards and eight points, both season lows.
Things did not look promising early on, as the Lions were able to move the ball with relative ease even in the hellacious snowstorm despite a number of fumbled snaps. Running back Reggie Bush re-aggravated his calf injury in warmups and did not play, so it was up to Joique Bell and Theo Riddick to shoulder the load on the ground. Despite neither rushing for more than 8 yards on a single carry, they were able to grind out yards and move the chains. The Lions also had success throwing the ball, completing a long pass to Calvin Johnson in the first quarter to get in the red zone, as well as a few short swing passes to Bell out of the backfield, which he then took upfield for extra yardage.
The defense, as it has all season, found a way to stand strong in the red zone and keep the score close until the offense could get going. Twice they forced Bell to fumble the ball with the Lions in striking distance, recovering each time. The only touchdown the defense allowed came after Nick Foles' first interception of the season which set up the Lions with first-and-10 at the Eagles' 20-yard line.
"It's a strong belief in the team and a strong belief in each other, a trust," said linebacker Connor Barwin, who forced one of the fumbles. "I think it comes from the leadership, from (head coach) Chip (Kelly) and the rest of the coaches, not leaving anywhere for excuses to creep up into your mindset. It's just the way we think and the way we handle ourselves."
Strangely, the Lions moved the ball much better during the blizzard and then stalled after the skies cleared, accumulating only 67 total yards and three first downs in the second half. All their second-half scoring came courtesy of Jeremy Ross, who returned a punt and a kickoff for touchdowns.
"It was a great collective team effort," cornerback Cary Williams said. "It started with the guys up front, those guys handling their business up front first and foremost, not allowing (quarterback Matthew Stafford) to step into the throws. Then it's the secondary going out there and doing our job, making sure we stay over the top. I'm disappointed that I gave up that deep ball in the middle, but for the most part we held them, and I'm very proud of the team and very proud of what the coaching staff has done to get us to this point. But like I've said many times before, this is not a situation where we want to get complacent. We want to continue to make strides and get better each and every week."
Perhaps most incredible of all is how the Eagles shut down Calvin Johnson, the most dangerous wide receiver in the league. The secondary held him to a total of just three receptions for 49 yards and one catch for 9 yards in the second half. Williams and Bradley Fletcher both had their opportunities to match up against Johnson, with the former getting the assignment most of the time. Defensive coordinator Bill Davis called primarily for just straight man coverage, only sporadically sprinkling in safety help over the top.
"The corners did a great job, and the safeties too when they were on (Johnson)," Davis said. "The corners did a great job of being on him. It's a pretty difficult task. Moving forward is a lot easier in those conditions than moving forwards, and our (defensive backs) were more in harm's way, I thought, than if it had been a better surface. …. We played back off a little farther to make sure we were safe and didn't slip and give up a big (play) because of our footing. It was a challenge and our corners did a great job.
The conditions helped the Eagles in that Davis didn't have to double-cover Johnson on too many snaps.
"Not a whole lot," Davis said. "We did some (bracketing). The conditions helped with that a lot. Sometimes they were going to run the ball a little more than throw when the wind was bad. We just moved (the coverage) around, gave some help sometimes but more times than not we did not give him help – just our corners were on him."
The Eagles did not register a sack and pressure was hard to generate due to a lack of traction on the field, but the pass defense, which came into the game ranked last in the NFL in yards allowed per game, managed to hold Stafford to just 10-for-25 for 148 yards, with no touchdowns or interceptions.
Overall, it was a day to forget for Stafford, who fumbled the snap five times over the course of the game, losing only the last one – which proved most costly – when the Lions were down 28-20 but at the Eagles' 24-yard line with under 7:30 left and threatening to score. Linebacker Mychal Kendricks recovered the fumble, and six plays later running back Chris Polk ran untouched up the middle for a 38-yard touchdown to ice the victory.
The Eagles are riding a five-game winning streak and a wave of momentum entering the final three weeks of the season. With the defense at its peak, playing with a tremendous amount of confidence and showing the ability to shut down a prolific offense, the sky's the limit for this team.
With the clock winding down to zeroes at the end of the first half, Eli Manning heaved a Hail Mary pass from midfield into a cluster of players down the left side of the field.
Hakeem Nicks elevated above the rest of the crowd and came down with the ball, hoping to cut into the 24-point Chargers lead. Coming up from the scrum, Nicks started to put both arms up to signal his would-be first touchdown of the season, but upon further review, it sunk in that the 43-yard completion came six yards short of the goal line.
"Actually I thought I ended up in the end zone until I looked down and saw I was only at like the five," Nicks said after the game. "It's just me trying to go and make a play. I had no doubt in my mind I was going to come down with it once I sized the ball up."
Such has been the season for the wide receiver, the offense, and the entire Giants team. They all came up short in a year that won't go further than Week 17.
The Giants were eliminated from postseason contention with their 37-14 road loss to the Chargers on Sunday afternoon.
"It's reality," said Nicks, whose team dropped to 5-8 on the season. "So we've got to face that. We dug ourselves in this hole this year. We've got to face it. We've got three games left, but we can control how hard we play in those games and that's all we can control at this point."
While Nicks has three more weeks against Seattle, Detroit (away), and Washington to find the end zone, he posted his third 100-yard game of the season in San Diego.
Including a 51-yard reception on the second drive of the game – his longest play since a 57-yarder in the first game of the season – Nicks led all receivers with 135 yards on five catches, bringing his season total up to 49 receptions for 789 yards.
But even if Nicks finishes with a zero in the touchdown column, that won't be the toughest pill to swallow. It will be not playing after the New Year.
"It's always when you're sitting down watching the playoffs," he said. "And wanting to be there, wanting to play."
David Akers stepped on to the stage and began to speak, just as he had time and time before, and will likely do time and time again. Known as a football player to most, this stage, this avenue, is the work for the rest of his life.
Akers is a devout Christian and has spoken about his faith before. Now, he has some more backing behind it — the Detroit Lions' kicker said he recently became a licensed minister.
"There's different levels," Akers said. "Mine's kind of more you can marry and bury. It's the first level, but I do so much speaking that it becomes where, 'OK, this is where it is.'
"If I wanted to be more in a church or, say, run a church, you need more for that. It's like getting your bachelor's in divinity."
This process started for Akers three or four years ago, back when he was still kicking for the Philadelphia Eagles, the team he will face Sunday in his second work trip back to the place he played for a decade.
He had already been speaking about his faith to conferences and conventions. So he decided to get officially credentialed with online courses through the Assemblies of God, a church based in Missouri.
It took a while, but Akers is now an official minister able to back up his beliefs with actual credentialing now.
See, Akers has lived and seen a lot. And his beliefs, while absolute, have been tested.
He dealt with having to leave Philadelphia, his home for a decade and the South Jersey area his family still lives in, to go to San Francisco for two seasons and now Detroit his season.
He dealt with losing almost $4 million in a Ponzi scheme with Triton Financial — a case study his long-snapper, Don Muhlbach, told him he actually studied during the offseason at Wharton Business School.
He dealt with his daughter, Halley, having a scare with cancer two years ago.
Through it all, Akers leaned on his faith. His belief in a higher power and purpose that has carried him through his life.
"I had some people in the past two years say, 'Man, you've gone through a lot of crazy stuff,'" Akers said. "There's health, professional, relational, moving all across and in the financial aspect. Lost over 4 million dollars and all kind of crazy things happen, how do you deal with all that adversity?
"I can tell you where my faith lies and what happened."
There's also what he saw.
When he was in San Francisco, he met pastor Francis Chan, a minister who will sometimes take to the streets of the city to preach what he believes. When Akers met him, he decided he needed to go along with him.
To learn what he knew. To see what he saw.
"It's called City Impact," Akers said. "That blew my mind, doing street ministry in the Tenderlion District of San Francisco.
"Where you're walking by people with full-blown AIDS and preaching the gospel to them a little bit. So, that aspect."
Seeing that was only part of his overall experience with his faith, part of his training as a new minister. Akers believed through all of his personal tribulations and what he saw during his classes. It is what he preaches now, what he has worked on writing about. Because Akers already knows what's next, especially as a 38-year-old who knows his professional football career — a career that helped give him his voice — is winding down.
His combination of football, life experience and ministry led him to want to tell his story through the prism of his faith. His belief is that his story could help others on their paths or to assist them through their own struggles.
So, he's planning on writing a book.
"What we're going to do is just kind of the different areas in life that you can kind of go through," Akers said. "And how you can build off of it, and how one kind of leads into another.
"I'm really excited about it."
It's a book to help people through their ups-and-downs, through their own lives through the prism of what he has seen, what he has lived. If all goes well, he is hoping it could be out by next year.
"We're moving pretty good," Akers said. "I've got the whole outline on it, got the main chapter that we're going to use for the proposal. We've got the overview, got the literary agent that's ready and push it, sell it, we went to four of them.
"The concept seems to be pretty cool. People have kind of brainstormed with me and kind of heard it. It's going to be a football, life, faith book."
One that will have plenty of real life attached to it.
Steelers outside linebacker LaMarr Woodley was a full participant in practice on Thursday, making it likely he will play Sunday if he doesn't suffer any setbacks.
What appears to be more in question is where Woodley will be playing when the Steelers host the Dolphins in a 1 p.m. ET game that is a must-win contest for each team.
Woodley has sent mixed signals this week, saying he is staying at left outside linebacker while also acknowledging that he would need little to no practice time at right outside linebacker before playing it in a game.
Mike Tomlin has seemed more open than ever to flipping his outside linebackers, and the fashion in which Jason Worilds has dominated from the left side should be the biggest consideration when the seventh-year coach tries to maximize the Steelers' two best pass-rushers.
Woodley has missed the past three games with a calf strain, and during that span Worilds has passed the seventh-year veteran for the team lead in sacks with six. He has also established himself at left outside linebacker perhaps for the rest of this season – and beyond 2013.
It makes all the sense in the world for Tomlin to keep Worilds at left outside linebacker and accommodate him even though Woodley is the highest-paid defensive player in Steelers history as well as seventh on the team's all-time sack list.
Worilds is simply the better and more reliable player right now, and Woodley has said he is willing and able to adjust.
"I think that our guys can play on either side," Steelers defensive coordinator Dick LeBeau said. "We kind of practice in that way, more so in training camp than when we get in the actual season. We try to plan for the unexpected, if you will. That means guys have to be able to move around and play other positions. LaMarr, I think, is certainly athletic enough to play anywhere we put him, maybe at nose tackle. I think he'd do OK."
LeBeau smiled after the last line.
Woodley isn't lining up at nose tackle even though it looks more and more likely that Steve McLendon will miss a second consecutive game because of a high-ankle sprain.
Not should he line up at left outside linebacker if Worilds has played well enough there to make the job his to lose.
Practice ended Thursday, and while most of the Detroit Lions players went through a hallway to the locker room, the wide receivers assembled in the indoor practice facility.
There, receivers took turns catching passes after having what appeared to be a screen blocking their vision at first. The screen would then be pulled down by an assistant and the ball would already be on its way.
The receiver, obviously, would have to catch it. Considering some of Detroit's issues there this season, this is an important drill to be working on.
Detroit's drop numbers are interesting. The Lions have more drops, 37, than any other team in the league. But they also have the second-most passing attempts in the NFL, with 500.
Where it evens out — and where Detroit's drop struggles become more evident throughout the season — is in drop percentage. The Lions are tied with the Rams for the league's worst drop rate at 7.6 percent of Matthew Stafford's passes.
And it hasn't gotten better for the Lions in the second half of the season. Detroit has 14 drops in the past four games at a drop rate of nine percent, both numbers that are worst in the NFL.
Offensive coordinator Scott Linehan explained away the drops as a function of Detroit's passing offense.
"We throw the ball a lot, so some teams don't throw the ball as much, so they aren't going to have as many when it comes to the amount of throws," Linehan said. "I think guys really worked hard at catching it. I thought the last game they caught it really well.
"Great catches that weren't routine. I don't think that's necessarily indicative of us versus anybody else."
Except Detroit was credited with four drops in that game according to ESPN Stats and Information — one each to Kris Durham, Joique Bell, Brandon Pettigrew and Calvin Johnson.
The drops, though, haven't been quarantined to one game or one player. Ten of the 14 Lions players who have caught passes this season have also dropped at least one pass.
The four Detroit players who haven't been credited with a drop by ESPN Stats and Information are tight ends Joseph Fauria and Dorin Dickerson, and wide receivers Kevin Ogletree and Patrick Edwards, who is now on the practice squad.
The most guilty Lion of dropping passes? Running back Reggie Bush, who has eight drops this season and is dropping passes at a rate of 12.3 percent — second-highest in the NFL among qualifying players behind Pittsburgh's Le'Veon Bell (13.3 percent).
Combine Bush's drops with his fumble issues — he's been big on working on ball security this week — and bad hands would be a potential concern for the Lions' starting running back.
Detroit coach Jim Schwartz, though, is not concerned. He noted Bush's drops earlier in the season as a reason for his high percentage.
"That'll get your numbers up," Schwartz said. "He also made an over-the-shoulder catch last week, too."
This isn't to say Bush isn't a talented player — he is a gifted runner and receiver — but he has also dropped passes on screens and in the flat that could have been large gains if he held on to the ball.
After Bush is Johnson with seven drops (5.3 percent), Durham with four (5.8 percent), Bell with four (8.9 percent) and Pettigrew with four (7.0 percent). Beyond them are players who are either no longer on the Lions, on injured reserve or have limited roles.
Tight end Tony Scheffler, who was cut in October, had three drops. Ryan Broyles, who is now on injured reserve, has two along with Nate Burleson, who missed seven games, and Jeremy Ross, who has played in six games and been targeted nine times.
Running back Theo Riddick, who plays sparingly, has one drop.
Of all the players listed, Johnson's drops might be the most understandable. His seven drops are one off a career-worst set last season, but he has been targeted 131 times, more than any other receiver in the league.
Despite the drops from his pass-catchers, Stafford is having a good season. He has still completed 59.2 percent of his passes (296 of 500), thrown for 27 touchdowns, 14 interceptions and 3,825 yards.
But as the weather gets colder and situations become more intense for the Lions as they make a playoff push and a potential appearance in the postseason, how Detroit's pass-catchers handle what Stafford throws at them will be paramount for any future Lions success.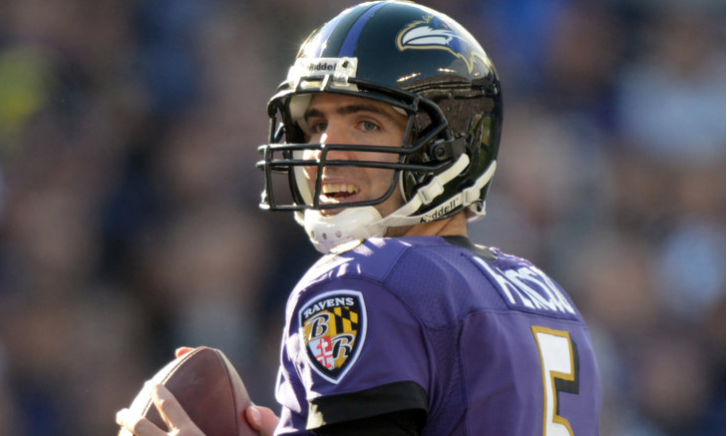 Quarterback Joe Flacco spent much of the first half of the season on the run.
The Ravens offensive line went through some early-season struggles and had a hard time keeping him clean. The unit eventually replaced three starters from last year's Super Bowl team, and went through some growing pains along the way.
Now the group is coming together for the final stretch of the season, and left tackle Eugene Monroe has much to do with keeping Flacco upright.
"I'm as comfortable as can be," Flacco said. "I think [Monroe is] doing a great job."
Monroe has come on strong in recent weeks and been one of the best performers of the entire offense. According to the statistical analysis website Pro Football Focus (PFF), Monroe has graded as the Ravens' best offensive player the last two weeks in victories over the Steelers and Jets.
"I've been playing some solid ball," Monroe said. "I'm just working at getting better every day, even throughout the games.
"He continues to get better," Offensive Coordinator Jim Caldwell added. "He is finally getting a sense of all the things that we do. He has a good feel for it. He's had the opportunity to go through the gamut within the new system, and I think the communication is certainly better as well."
The Ravens acquired Monroe from the Jacksonville Jaguars Oct. 3 in exchange for a fourth-and fifth-round pick in the 2014 draft. He took a week to learn the system and then replaced veteran Bryant McKinnie in the starting lineup.
McKinnie ended up getting traded to the Miami Dolphins and Monroe has started the last seven games. He had to quickly learn the offense and was thrown into the fire.
"The first couple of games I would get calls on the field, and even though we worked to catch me up to speed on everything, there's stuff installed that might just come up, and you'd have to ask the guy next to you, 'Hey man, what do we got?'" Monroe said. "You need that communication anyway, but it can slow down your play a little bit."
The other challenge Monroe had to deal with was the transition at left guard, as A.Q. Shipley took over once Kelechi Osemele went on injured reserve with a back problem. Not only did Monroe have to learn a new system, he also had to develop chemistry with two different linemen.
He and Shipley have now played together for the last six games, and the rapport is showing with improved protection for Flacco. The quarterback faced pressure 13.2 times per game through the first nine weeks of the season, and that number has dropped to 11.3 times the last three weeks, according to PFF.
"I've had a little bit of consistency here of late, with having Shipley next to me every play," Monroe said. "We're growing and getting better together."
With Monroe's impressive play over the last few games, some pundits have started to speculate that he could be the long-term solution at left tackle. The Ravens have been looking for a lasting blindside protector since Hall of Famer Jonathan Ogden retired in 2007 – McKinnie and Michael Oher each had stints – and Monroe is currently in the final year of his contract.
The Ravens could try to work out a new contract for Monroe in the offseason, and he expressed hope that he will remain in Baltimore for years to come.
"It would be difficult to go through a change like this early in the season, come here, get established, then go somewhere else," Monroe said. "It's a great organization here. There are great people here that I love coming to work with every day. But right now really isn't the time to worry about that kind of thing. We've got four games to win to extend this season."
Pride has been restored in the Baltimore Ravens' run defense. A season after being ranked 20th in stopping the run — the Ravens' worst showing since 1996 — Baltimore is back to shutting down big gains and keeping backs out of the end zone.
The Ravens' biggest test comes Sunday, when the NFL's leading rusher comes to Baltimore. How the Ravens hold up against the Minnesota Vikings' Adrian Peterson will determine whether Baltimore wins its third straight game and remains in control of its playoff fate.
This is a statement game for the Ravens' run defense, although no one would acknowledge it is.
"I think the only thing our guys [on defense] are thinking about in terms of making a name for themselves is winning," Ravens coach John Harbaugh said.
In order to win, the Ravens have to contain the powerful back who just became the 28th player in NFL history to surpass 10,000 rushing yards. When teams have held Peterson under 140 yards rushing, they've gone 7-1 against the Vikings this season.
The Ravens are in a much better position to limit Peterson than last season, when the Ravens watched their streak of having a top-five run defense end at six straight years. After winning the Super Bowl, the Ravens upgraded their defensive line by signing end Chris Canty in free agency and moving Haloti Ngata to nose tackle. Baltimore also improved at middle linebacker, where Daryl Smith has made everyone forget that Ray Lewis is no longer playing.
Three-quarters of the way into the season, the Ravens run defense ranks No. 6 in the NFL, giving up 22 yards less on the ground per game than last year. The Ravens also rank first in fewest rushing touchdowns (two), fourth in yards per carry (3.7) and tied for third in 20-yard runs (three).
"We're happy about what we're doing, but we know there's so much more room for us to grow," inside linebacker Jameel McClain said.
The key to slowing down Peterson is not missing tackles, which is easier said than done. Peterson has gained 557 yards after contact this season, which is 110 yards more than anyone else in the NFL. In the Ravens' last and only meeting against Peterson (October 2009), 40 percent of his yards (58 of 143) came after contact.
"You've got to play good fundamental team defense," Canty said. "We've got to be sound. We've got to be in our gaps. We've got to get 11 hats to the ball and swarm him."
The Ravens' run defense hasn't faced many daunting challenges this season. Baltimore has gone against three running backs who rank in the top 10 in the NFL in rushing, which could be the reason why the Ravens have allowed one 100-yard rusher (Green Bay's Eddie Lacy) this season.
The true measuring stick comes Sunday, when the Ravens face a five-time All-Pro running back in Peterson.
"We wouldn't' be in this game if we weren't trying to compete with the best," McClain said. "Our mentality is no different than anybody else's mentality, but the result remains to be seen." The Buffalo Bills signed tight end Tony Moeaki on Wednesday.
Moeaki was a third-round pick of the Kansas City Chiefs in 2010. He caught 47 passes for 556 yards and three touchdowns as a rookie but has battled injuries since, including a torn ACL that wiped out his 2011 season.
The 26-year-old spent the first several weeks of this season on injured reserve for the Chiefs before receiving an injury settlement.
At 6-foot-3, 252 pounds, Moeaki provides another option at tight end for the Bills. He is more of a receiving threat than No. 2 tight end Lee Smith and could see playing time in the final four games as the Bills look to evaluate the position heading into next season.
Buffalo Bills receiver Steve Johnson generally isn't one to shy away from a little pre-game banter.
On Wednesday, though, Johnson didn't bite the first time a reporter asked about his looming matchup with Tampa Bay Buccaneers cornerback Darrelle Revis on Sunday.
"I feel like Revis is Revis. I don't need to say too much about him. He's an elite corner," he said. "My main concern is getting a win. I'm not worried about the matchup."
Asked how much he anticipates lining up from Revis, the Bills' top receiver threw in a little color.
"Who knows? I know we'll be competing. I feel like we'll match up more times than not, and when we do, we'll see who's the better man throughout the game," Johnson said. "But once again, my concern is about getting the win, not an individual person."
You saw it on Sunday. Justin Smith barreling into an offensive lineman, pushing him into his own quarterback.
You've seen it for six seasons now. Smith collapsing the pocket with sheer force.
What does he call the pass-rushing move known in some circles as the "bull rush"?
"It's called I-wish-I-had-another-move," Smith said in jest before Wednesday's practice. "It's all I got at this point, so we'll keep going with that one."
And it's not something Smith practices. He certainly has other tactics, and his self-deprecating modesty is getting in the way of expanding on them.
But watch the 49ers front seven and, fittingly, it's Smith who's getting in the way. Expect that to continue this Sunday at Candlestick Park, where San Francisco hosts Seattle as part of Week 14 action.
"Great finish on plays, finishes the pass-rush," Seahawks coach Pete Carroll said. "He helps other guys get there in famous fashion."
Defensive tackle Ray McDonald was the beneficiary in Week 13, earning a sack when the 6-foot-4, 285-pound Smith pushed 6-foot-6, 320-pound left guard Chris Williams into St. Louis Rams quarterback Kellen Clemens. And outside linebacker Aldon Smith is often his elder teammate's partner on stunts at the line of scrimmage.
"Obviously, Justin is so strong. He's so physical. And he's been doing it for a long time," Seahawks quarterback Russell Wilson said. "He's probably one of the best at it for sure."
Wilson said he didn't make a comment in the film room to his own offensive lineman, center Max Unger, after Smith pancaked Unger in the teams' Week 2 matchup. Smith went sack-less in that game at Seattle, but has 4.5 to his name this season.
Even if the statistics don't show it, Smith's domination of larger lineman is a sign that, at 34 and in his 13th NFL season, he is at his best.
"Just a strong man playing extremely strong. It's rare to see that. He's got amazing perseverance," said Jim Harbaugh, who awarded the veteran with another game ball on Sunday. "It would take that wouldn't it? It would take real strength and perseverance and drive to accomplish that."
If you want a great example of what makes Carolina Panthers wide receiver Steve Smith special, check out quarterback Cam Newton's 56-yard run in the first quarter of Sunday's 27-6 victory over Tampa Bay.
Newton was ready to settle for a first down around his own 40-yard line. You can see him lower his shoulder for a brief second for one of his patented head-first dives and a modest 10- or 11-yard gain.
Then he saw Smith, sealing off cornerback Darrelle Revis about five yards in from the left sideline. He quickly maneuvered around the block, which ultimately took out safety Mark Barron and impeded the progress of defensive tackle Gerald McCoy.
A short gain suddenly became a season-best 56-yarder.
Newton might have gone all the way had he not been tripped — yes, upon further review and much to the chagrin of offensive coordinator Mike Shula in the ribbing department, he was tripped — by Dashon Goldson.
This is why the Panthers (9-3) should expect to be successful offensively in Sunday night's NFC showdown against the New Orleans Saints (9-3) at the Louisiana Superdome.
If you watched Seattle's 34-7 dismantling of the Saints on Monday night, if you saw the way quarterback Russell Wilson gashed New Orleans for 47 yards on eight carries, you can imagine Newton doing the same thing.
The potential is there not simply because Newton can and likes to run. It is there because he has Smith, Brandon LaFell, Ted Ginn Jr. and Domenik Hixon, who block as well or better than any group of receivers in the league.
"We're trying to call his runs very judiciously," coach Ron Rivera said. "We're trying to put him in a situation where we can minimize the contact he has to make.
"But I will say this, one thing you do notice is all of our receivers blocking downfield. [They] have all put themselves in position where they're cutting people off, getting in the way of people and flat out knocking them down."
That minimizes the contact Newton takes. It also allows him to turn little plays into big ones.
Making receivers buy into becoming blockers — at least efficient ones — isn't easy. Shula believes his group has because Newton's long runs keep drives alive and create more opportunities for them to catch passes.
Rivera says having a quarterback of Newton's ability makes it an easier sell because receivers know their block not only could turn into a first down, but a touchdown.
"Some guys don't want to put themselves at risk," Rivera said. "You know, 'Oh, the ball is going to run away from me so I'm not going to block on this play.'
"What you want is for them to do it consistently every time there is a run play called so that they're in a position to block or cut somebody off."
Because they never know when Newton will tuck the ball and run, the receivers constantly are looking for opportunities to block. They're one of the reasons Newton has led the team in rushing the past three games and in four of the last six.
After watching the way Wilson consistently got outside of the New Orleans containment to make plays with his legs and arm is even more motivation. If Newton can do the same that should open up the rest of the offense as it did for Wilson, who also threw for 310 yards and three touchdowns.