Maybe it would be different for Knowshon Moreno if some things had happened more quickly for him than they did. Or maybe it would be different if some things hadn't happened at all.
But in the wake of a season in which he finally turned potential into production for the Denver Broncos — when he rebounded from injuries, grew up and became the most reliable option in the Broncos' run game — Moreno will soon be one of the most proven running backs on the open market.
Because that's where the Broncos' chief football decision-maker, John Elway, said all of the team's unrestricted free agents were headed with "I think they have to hit the market, the market sets those [contracts]."
After Montee Ball missed a blitz pickup in a preseason loss in Seattle and quarterback Peyton Manning took what was perhaps the biggest hit he's taken in his Broncos tenure, Moreno was largely the running back of choice in any situation. Moreno became the best option in pass protection when the Broncos were in their three-wide-receiver set, which was on roughly three of every four plays they ran last season, and he was the top choice in the run game as well.
And when all was said and done in the team's record-setting performance on offense, Moreno — a player whose maturity, preparation and attention span were questioned at times in his first five seasons in Denver — was suddenly the standard bearer.
Moreno's a guy who, as running backs coach Eric Studesville put it, "if one of our other guys wants to see how to do it, how to come to work and work, no matter where you are on the depth chart, Knowshon is the guy to look at … I always say, I'd like to think I played a small role in that, but Knowshon did that. Knowshon made himself into what he is."
Moreno rushed for 1,038 yards (his first 1,000-yard season) and scored 10 rushing touchdowns, one of five Broncos players with at least 10 touchdowns last season. He also caught 60 passes and three more touchdowns. Toss in the fact he was the best option as a pass protector in the backfield as well, and the Broncos have plenty of work to spread around in a run game that is expected to be a priority in the coming months.
"When you talk about Knowshon, he had a tremendous year for us," Elway said. "You look at the year — he was reliable, he caught the ball, ran the football for us and was also tremendous in pass protection. Knowshon was a big part of what we did this year."
But Moreno had a torn ACL repaired in 2011 to go with a stem-cell procedure on his knee last offseason after he was injured in the playoff loss to the Baltimore Ravens. He also missed much of two training camps early in his career with injuries and the Broncos have begun the plan to move on over the past two years having selected Ronnie Hillman in the third round of the 2012 draft and Ball in the second round of the 2013 draft.
Moreno will turn 27 in July, so in the world of running backs he's still considered by personnel executives to have some miles left on the career odometer. The knee injuries will be a concern for some evaluators, especially if Moreno's representatives are looking for a longer-term deal.
The Broncos could give Moreno a look later in free agency on their terms, but he is expected to draw a better offer elsewhere.
The Broncos will look for Ball to go from productive No. 2 option — 559 yards rushing at 4.7 yards per carry this past season — to starter in the coming weeks. Ball, who lost three fumbles by Nov. 24 last season, settled in nicely the rest of the way, playing well down the stretch and into the postseason. Ball also caught 20 passes last season and his role in the passing game will be the part of his skill set that will need the most attention in the offseason. With Manning at quarterback, the No. 1 back in the Broncos' offense is always going to be a threat for 50 receptions.
Hillman is facing a critical offseason. The Broncos handed him the starting job last May and into training camp.
Not only did Hillman not keep the job, he didn't respond well with the competition as the season wore on and was a non-factor for much of the year and especially in the postseason.
There is a crop of bigger running backs in this draft — there were 17 running backs at this year's scouting combine who weighed in at 218 pounds or more compared to 10 at the 2013 combine and 14 in 2012 — and the Broncos will give several of those runners a long look in the draft.
But in the end they certainly like what Moreno became this past season. Now they want Ball to be all that, and perhaps even a little more.
General Manager Ozzie Newsome finally has a big pot of money at his disposal.
The NFL told teams last week that the league will increase the salary cap in 2014 to $133 million, the highest amount in league history. The previous high was $127 million in 2009.
The bump represents about a $10 million increase from last season, and is welcome news for teams like the Ravens that typically spend very close to the cap.
"We have more salary cap space, so that makes it a little brighter situation," Head Coach John Harbaugh said during an interview at the NFL Scouting Combine.
The increase in the salary cap, along with new deals for outside linebacker Terrell Suggs and tight end Dennis Pitta, and the cuts of linebacker Jameel McClain and fullback Vonta Leach, gives the Ravens reportedly $26 million in cap space heading into free agency.
That could give the Ravens an opprortunity to be active on the open market.
"I think this year we'll probably use every avenue to make our team better," Newsome said at the combine. "If we feel like there's a free agent that could come in and impact our football team, then I think that would be someone that we would be attracted to.  We will use every avenue this year to make our team better."
In addition to targeting some unrestricted free agents or cap casualties, the Ravens are also interested in re-signing their own players. The team has been in negotiations with left tackle Eugene Monroe and inside linebacker Daryl Smith, and Harbaugh said he was optimistic about the possibility of keeping them in Baltimore.
Other key players like defensive lineman Art Jones, cornerback Corey Graham, wide receiver Jacoby Jones, right tackle Michael Oher and safety James Ihedigbo are also set to become free agents. The new money could allow the Ravens to work out deals with some of them before they hit free agency.
he Ravens have until 4 p.m. today to either re-sign left tackle Eugene Monroe or place the franchise tag on him.
Placing the franchise tag on Monroe would ensure he would be a Raven for at least one more season, and buy Baltimore more time to a long-term deal negotiate.
But it's an expensive proposition.
The franchise tender for offensive tackles this year is $11.65 million, costing nearly as much as coveted wide receivers and cornerbacks. It's so high because tackles often garner big contracts and the franchise tag is the average of offensive linemen's top deals.
All of that money would go towards this year's salary cap as well, whereas a long-term deal could be spread out over the course of the contract.
The Ravens and Monroe have made "some progress" in negotiations towards a new deal, according to The Baltimore Sun, but still reportedly remain financially far apart.
Both sides have said they would like to reach an agreement. Monroe's wife is from the Baltimore area and he enjoyed his time with the Ravens after coming from Jacksonville early in the season.
The Ravens would like Monroe, who is only 26 years old and regarded as the top tackle potentially to hit the market, to anchor the left side of their line. He was the Ravens' best lineman and the 12th-best tackle in the entire NFL, according to Pro Football Focus.
Baltimore also gave up fourth- and fifth-round picks to bring Monroe to Baltimore. If he did sign elsewhere, however, the Ravens would likely recoup those picks (or close to it) the following year in compensatory selections.
If the Ravens do put the franchise tag on Monroe, they would have until July 15 to work out a long-term deal and avoid having him play the entire season under the tag. The Ravens have signed every franchise player in team history to long-term contracts except for one, center Wally Williams in 1998.
Contract talks between the Bills and safety Jairus Byrd were at a standstill on Sunday, a day before Buffalo faces a deadline to apply the franchise tag on the three-time Pro Bowl selection.
People familiar with the situation told The Associated Press talks have stalled and no further discussions are scheduled after the Bills made a lucrative, multiyear offer to Byrd. Without revealing the full value and length of the offer, one person said Byrd would have been paid about $30 million over the contract's first three seasons.
The people spoke on the condition of anonymity because neither side has publicly discussed negotiations.
Unless a deal is reached, the Bills have until 4 p.m. Monday to apply the franchise tag on Byrd and retain the player's rights before he would be eligible to become an unrestricted free agent on March 11.
The Bills took that approach last offseason, which led to Byrd playing under a one-year, $6.9 million franchise tag. The price for Buffalo to do so again would increase to about $8.4 million this year.
Byrd has been Buffalo's best defensive back since being selected in the second round of the 2009 draft out of Oregon.
He enjoyed a breakout season as a rookie, when he finished tied for the NFL lead with nine interceptions — a rookie franchise record.
Last year, Byrd finished tied for the team lead with four interceptions, and added a sack and a forced fumble despite missing the entire offseason before reporting to the team in late August, when he accepted his one-year contract. Byrd then missed the first five games of the season because of plantar fasciitis in both feet.
Despite the time he missed, Byrd still earned his third Pro Bowl selection.
Byrd has 22 interceptions and 11 forced fumbles in 73 career games.
Former Minnesota Vikings linebacker Erin Henderson, who was released by the team on Feb. 7, will make his first court appearance Monday to face five charges stemming from his Jan. 1 arrest for drunken driving and drug possession.
Henderson, who was arrested in Chanhassen, Minn., after a single-car accident on New Year's Day, was charged with second- and third-degree DWI, as well as one count of marijuana possession over 1.4 grams and one count of drug paraphernalia possession, according to Carver County court records. He was also charged with driving under a limited driver's license condition, which occurred as a result of his initial DWI arrest on Nov. 19 in Eden Prairie, Minn.
He is facing two fourth-degree DWI charges, a drug possession charge and a careless driving charge from the first arrest, and will appear in Hennepin County court for that case in April.
The Vikings moved Henderson from weak-side linebacker to the middle of their defense before last season, but the 27-year-old lost his job to Audie Cole after the Nov. 19 arrest, and a subsequent personal matter that kept Henderson out of the Vikings next game. After the first arrest, Henderson said he had been struggling with the pressure of trying to keep his starting job in the NFL, but said two days before the second arrest that he believed he'd made significant personal strides.
Henderson could face additional NFL discipline following the two arrests. He has not signed with a team for the 2014 season.
"We're always going to be there for Erin in any type of capacity if he needs support in any way, shape or form," general manager Chris Spielman told reporters at the team's Arctic Blast charity event the day after the Vikings released Henderson. "He's done a lot of great things for our organization. I know he's had a rough stretch down here, and those are tough decisions to make, but that doesn't mean we don't care about Erin Henderson the person."
In the past two days, the Detroit Lions have been given an idea of what the team might see when free agency starts March 11.
And they have had to make no moves of their own to do so.
By Philadelphia re-signing wide receiver Riley Cooper and Baltimore hanging on to tight end Dennis Pitta, two of the positions the Lions will potentially look to the most in free agency, Detroit now has a base of what could be expected.
Cooper signed a five-year, $25 million contract after a breakout season where he caught 47 passes for 835 yards and eight touchdowns. In a deep crop of free agents at his position, Cooper was part of a tier of player that the Lions are likely going to look at to potentially fill a need, so this gives them a market value to work off of.
Pitta's signing, as first reported by the Baltimore Sun, does more to shape Detroit's free agency than Cooper's will. Pitta's contract will be five years for $32 million, according to ESPN Insider Adam Schefter, and it could give an idea of what the Lions' own comparable tight end in the free agent market, Brandon Pettigrew, might want.
It would be logical to think that Pettigrew would at least seek out a deal similar in value to Pitta and depending how Detroit feels about that situation, could give an early indication whether the team might feel that is worth it to pursue.
Pettigrew actually put together better statistics than Pitta during the overlapping parts of their careers — Pettigrew has one more year of service than Pitta — but they are capable of doing similar things. Both are tight ends who are considered dual-purpose, meaning they can block and catch, so that helps set the market even further.
The final piece of this, and perhaps the reason why Pettigrew might end up leaving Detroit, is he might now be the top free-agent tight end. With New Orleans using the franchise tag on Jimmy Graham and the signing of Pitta, Pettigrew and Buffalo's Scott Chandler are now the top free-agent tight ends likely to hit the market in less than two weeks.
That could drive the value for Pettigrew higher than it might have been had Pitta not re-upped with the Ravens.
Detroit general manager Martin Mayhew said at the NFL combine a week ago that Pettigrew is a priority free agent for the Lions, but like with every move the team makes, everything will be interconnected both with comparative value through the rest of the league and also how it fits with other free agents the Lions are going to try and acquire.
The Detroit Lions are keeping their continuity snapping the ball in 2014.
The team, which brought back center Dominic Raiola last month, re-signed veteran long snapper Don Muhlbach to a one-year contract. The deal was announced Thursday.
The base salary on the deal is $955,000, according to NFLPA records. The Detroit Free Press is reporting Muhlbach is also receiving a $65,000 signing bonus. He received the same bonuses in 2012 and 2013.
The 32-year-old from Texas A&M has played in 148 games for Detroit since going undrafted in 2004 — almost primarily as the team's long snapper.
Muhlbach was named to the Pro Bowl in 2012.
To understand a little bit more about what Muhlbach actually does, here's a look from last season at the Detroit Lions punting operation.
The Chicago Bears agreed to terms on a one-year contract with veteran tight end Dante Rosario, the team announced on Thursday.
Earlier on Thursday the Bears re-signed starting center Roberto Garza to a one-year, $1.5 million contract that included a $100,000 signing bonus and $75,000 workout bonus.
Rosario, a seven-year NFL veteran, was acquired by the Bears via a trade with the Dallas Cowboys on September 2. Rosario appeared in 15 games (three starts) and caught just one pass for 13 yards but did record five special teams tackles.
For his career, Rosario has 100 receptions for 1,119 and eight touchdowns in 106 games and 29 starts.
The Bears could still look to add another tight end to the mix in free agency or the NFL draft to compliment starter Martellus Bennett, who caught a career-high 65 balls for 759 yards in 2013, to go along with five touchdowns.
So what if Chicago Bears center Roberto Garza turns 35 in less than a month? The team absolutely made the right decision in shrugging off age and instead focusing on production in deciding to bring back Garza for what will be his 1oth season in Chicago.
The Bears also made the right move to come up from the original minimum offer the sides discussed shortly after the conclusion of the regular season.
A captain for each of the past three seasons, Garza has started in eight postseason contests, and anchored a revamped offensive line in 2013 that featured four new starters. The Bears finished last season as one of just three teams in the NFL to start the same five offensive linemen for all 16 games.
So bringing back Garza only enriches the continuity along the offensive line, which should be even better in 2014 in Year 2 in Marc Trestman's offensive system.
Bears general manager Phil Emery referenced Garza's consistency when discussing in January the potential difficulty of bringing back the starting center after a 2013 campaign which was arguably Garza's best in Chicago.
"A year ago, he was at 11 total [hits, sacks and knockdowns allowed] for the season," Emery said. "This year, he was at five. So I've told him I thought he made a big push up. He got a lot better with his overall body position and his hip placement. He's obviously very important in terms of calling signals for our offensive line and making point adjustments."
Garza also brings a selfless attitude that has proved to be contagious in the locker room. In making a decision on whether to sign the seven-year extension with the Bears, quarterback Jay Cutler talked about the desire of teammates to win championships over chasing dollars.
"I talked with [Matt] Forte, [Brandon Marshall], Garza and all the guys," Cutler explained. "We're here to win championships, not to make so and so amount of dollars."
It's apparent the Bears used the recent deal signed by Detroit center Dominic Raiola, who is 35, as the framework for Garza's contract. Raiola signed a one-year deal earlier in February worth $1.5 million.
So while Garza's deal doesn't exactly break the bank, it's cap friendly and rewards one of the fixtures on Chicago's offensive line who hasn't shown any signs he's regressing.
Jonathan Martin has made it clear that he wants to play in the NFL in 2014, but what's not quite clear yet is where Martin will play.
The 24-year-old offensive lineman is under contract with the Dolphins for two more seasons, but that doesn't mean he's staying in Miami. According to CBS Sports NFL Insider Jason La Canfora, conversations didn't go too well when Martin's camp met with the Dolphins at the NFL combine.
A trade could send Martin anywhere, but one place he'd probably feel comfortable and where he'd see a lot of familiar faces is Indianapolis. In an interview with on NBC Sports Network's Pro Football Talk show on Wednesday, Colts quarterback Andrew Luck said he'd be in favor of bringing his former Stanford teammate to Indy.
Specifically, Luck was asked what he would tell the Colts' front office if he were asked about Martin, "I'd say I love Jon, we had a great time at Stanford together, still stay in touch with him regularly and I think he's a great man," Luck said.
Just to be clear though, the Colts quarterback was also asked if he'd be 100 percent in favor of bringing Martin to Indianapolis, "Yes," Luck said.
Luck also added that he's spoken to Martin within the past couple of days.
If Martin's looking for welcoming locker room, Indianapolis might be his best bet. The Colts are basically Stanford-east. Besides Luck, the Colts also have three more of Martin's former Stanford teammates — Coby Fleener, Griff Whalen and Delano Howell — plus Colts offensive coordinator Pep Hamilton had the same job at Stanford while Martin was there.
Luck might be in favor of bringing Martin to Indianapolis, but the real question is: Would the Colts front office be in favor of it?
Seattle Seahawks quarterback and former minor league second baseman Russell Wilson will be in camp with the Rangers next Monday, the team announced. He is expected to participate in the club's morning work out and be in uniform for their afternoon game against the Indians. It's unlikely he will play, however.
Wilson, 25, spent two years in the Rockies' farm system before giving up baseball and pursuing a career in the NFL. He led the Seahawks to their Super Bowl XLVIII win over the Denver Broncos last month, so obviously the career choice has worked out quite well.
The Rangers selected Wilson from Colorado in the minor league phase of the Rule 5 Draft back in December. They aren't hoping to convince him to return to baseball, however. The team said they want Wilson in camp so he can talk their young players and be a motivational tool.
Wilson hit .229/.354/.356 with five home runs in 93 Single-A games for the Rockies from 2010-11. He was their fourth round pick in the 2010 draft.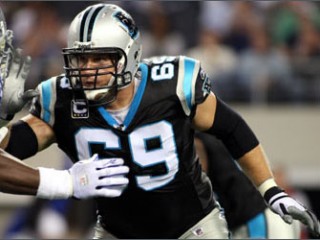 One longtime Carolina Panther called it quits on Wednesday, while another may be headed out the door behind him.
Offensive tackle Jordan Gross, who started a franchise-record 167 games during 11 seasons with the Panthers, officially retired at a news conference at the stadium. Afterward, coach Ron Rivera was non-committal on whether star wide receiver Steve Smith will be back with the team next season.
"A lot of it will have to do with what our situation and circumstances are going to be," Rivera said when asked directly about Smith's future. "I think as we go forward, just what the role is going to be we'll see."
Rivera said the Panthers need to clear salary cap room and said free agency may determine what happens with Smith.
Smith, the franchise's all-time leader in receptions and touchdowns, is under contract through 2016 but is set to cost $7 million under the 2014 NFL salary cap.
A 13-year NFL veteran who holds almost every major receiving record with the Panthers, Smith was present at Gross' retirement news conference but declined to discuss his own future.
"This is Jordan's day," Smith said. "We're not discussing me."
Gross and Smith were the only two players on last year's roster who played for Carolina's Super Bowl team in 2003.
Smith plans to meet with general manager Dave Gettleman in the next week or so to determine what his future holds.
It's unclear at this point if the Panthers want Smith to take a pay cut.
Carolina has already restructured the contracts of linebacker Thomas Davis, center Ryan Kalil and running back Jonathan Stewart this offseason to create cap space.
The Panthers need to create cap room to sign quarterback Cam Newton to a long-term contract extension and also need to make a decision soon on the future of defensive end Greg Hardy, who'll be an unrestricted free agent.
Restructuring contracts has become commonplace in the Gettleman regime. He restructured seven contracts last season, including Gross' deal.
"I didn't like you very much last offseason but I got over that," Gross said jokingly to Gettleman during his news conference.
Rivera said he believes Smith wants to play for Carolina next season.
"My understanding is yes, but we have to go through our entire process and we have to do things we need to before we starting coming out and talking about where we're going, and how we're going to get there," Rivera said. "We know what we want to do. We are working on plans."
Smith had 64 receptions for 745 yards and four touchdowns last season.
"I think a lot has to do with not just free agency but our own roster," Rivera said. "We have to create space and we know that. We are in a tough position right now and (our front office) is working very hard on it. It's about making sure we have the right situation so that we can go forward."
The press conference for Gross was attended by team owner Jerry Richardson and more than three dozen former teammates, coaches and members of the training staff.
Gross looked more like a tight end than an offensive lineman at the press conference, already having dropped 25 pounds from his regular playing weight of 305.
An emotional Gross presented a slideshow with some of his favorite photos through the years – often making fun of himself along the way. He got choked up when he got to a picture of team's offensive linemen and then again when he saw a photo of Smith jumping into his arms during the Super Bowl.
After Gross finished speaking he got a huge surprise when a Charlotte-based barbershop quartet led by teammate Ryan Kalil stood up and sang "Happy Trails."
"This wasn't your typical retirement press conference," Gross said with a laugh.
Gross, who was drafted by the Panthers in the first round in 2003, said he made his mind to retire midway through last season. He notified the Panthers of his intensions before the Scouting Combines.
Gross said the Panthers wanted him to return for another season, but his mind was made up. Rivera said he didn't try to talk Gross out of the decision.
The coach said, "It was his call."
The Raiders want a new stadium and if something doesn't happen soon, they might be leaving Oakland. Owner Mark Davis said this week that he wants to stay in the city where his team has been since 1995, but he needs to see some progress as far as stadium planning goes.
An investment group led by the world's third-largest privately held real estate firm, Colony Capital LLC, made headlines in October when they promised to redevelop the coliseum-area into a 'sports and entertainment center.'
"We are very enthusiastic about the opportunity… to develop this unique property, which we expect will become a transformational and vital urban, residential sports and entertainment center for [Oakland]," Colony CEO Thomas J. Barrack, Jr. said in October.
If Colony Capital's plans fizzle out though, the Raiders will likely be leaving Oakland.
"I don't want to call it a last-ditch effort, but it does seem to be the last chance that Oakland is going to get," Davis told the San Francisco Chronicle. "We can't continue to play in that stadium, with the baseball field and all of that stuff."
The Raiders lease at O.co Coliseum actually expired after the 2013 season and the team could've looked at moving to another city, but Davis and the Raiders agreed to a one-year extension to stay in Oakland. Davis made the agreement with hopes of seeing the stadium project move forward in 2014.
The Colony Capital deal looked promising when it was announced in October, but almost five months later, Davis hasn't heard anything regarding the project moving forward.
"They brought in Colony Capital and based on that, I decided to go ahead and do a one-year extension with them. But there's been no progress," Davis said. "I had high hopes when Colony Capital came in. I still do have hopes, but they're not as high because I haven't really heard anything positive from either group. It's gone silent again. We have to get something done."
If something doesn't get done, then 2014 could be the Raiders final year in Oakland. However, Davis didn't want to talk about a possible move to another city, "I don't want to talk about using someplace else for leverage," Davis said. "If I get something done in Oakland, I am staying."
The Raiders had a chance to move-in with the 49ers at their new stadium, but Davis decided that wasn't in the best interest of his team. That's a decision he still doesn't regret, "I really believe with the 49ers moving down to Santa Clara, and leaving the San Francisco Bay Area, that it leaves it wide open for someone to say, 'Wow, this is really a good opportunity for Oakland,' Davis said.
Besides the stadium deal, Davis touched on several topics during his lengthy interview with the Chronicle, which you can read here. If you're a Raiders fan, or you just want to read about Davis calling the 2012 Chiefs 'inept,' it's worth a click.
Will the Indianapolis Colts' 2014 starting running back be Trent Richardson? Will it be Vick Ballard? What about re-signing Donald Brown and making him the starter?
That question has been asked almost as much as who will the Colts target in the draft and free agency.
The answer?
There is no answer at the moment, and there may not be one until training camp or even up until Week 1.
It's not that the Colts are keeping it a secret. They don't have an answer, either, because the two running backs under contract — Richardson and Ballard — are both dealing with injuries.
Ballard tore his ACL in practice early last season, and Richardson had a shoulder procedure after the season ended. Richardson isn't expected to miss any of the offseason workouts, and the goal is to make sure Ballard is ready for training camp at the end of July.
Ballard rushed for 814 yards during his rookie season in 2012. The main reason the Colts acquired Richardson is because Ballard suffered the knee injury prior to the Week 2 game against the Miami Dolphins. Richardson ran for a disappointing 458 yards last season.
"At any point in time you'll know how we do things with the Colts, it's the best players play," Colts general manager Ryan Grigson said. "Iron sharp as iron. We're going to try to have the most competition at each position group and whoever wins that spot is going to be the starter and it's who is going to get us to that next level, which is Super Bowl XLIX and that's the mindset. You're either all in or all out."
Who starts won't mean much if offensive coordinator Pep Hamilton has his way. He wants to have a two-headed attack in the backfield. There are few teams in the NFL — Minnesota is one of them — that can rely on just one running back to carry the load.
Richardson had a team-high 157 carries last season and Brown had 102 attempts.
It was about this time two years ago that Indianapolis Colts tight end Dwayne Allen's draft stock dropped. While South Carolina defensive end Jadeveon Clowney turned heads by running a 4.53 in the 40-yard dash on Monday, Allen ran it in 4.9 seconds two years ago, causing him to slide to the third round of the 2012 draft.
Allen shook off the slight in the draft to start all 16 games and finish with 521 yards receiving his rookie season.
Allen's second season didn't even last a full game because of a hip injury that required surgery.
His absence was noticeable because the Colts had hoped that he and Coby Fleener would be one of the top tight end duos last season. Allen is a complete tight end because of his ability to block and catch. Fleener had a solid season but the Colts needed Allen's presence in the offense.
Barring any kind of setback, Allen will be medically cleared by the middle of March.
"That's something internally, we're kind of excited about, the return of some of these really, really talented football players that we missed all year," Colts general manager Ryan Grigson said. "Dwayne Allen, specifically, the guy's a beast. Anyone who game plans against him or watches the tape, or Joe Fan that just sees him how he plays in the red zone, how he plays in traffic, how he blocks at the point of attack, the tempo he plays at and the ferocity he plays at, he's a guy you want on your team. He's doing very well and we look forward to him having a great year."
When he was asked last Thursday at the NFL scouting combine about his impression of the tight end class in the 2014 draft. Minnesota Vikings general manager Rick Spielman admitted he'd paid little attention to the group.
"We have pretty good tight ends, so I wasn't really focusing on that," he said. "There's some depth at that position. I know there's some guys that have some character issues at that position. But we've got them all graded and stuff. We've kind of focused on some other areas."
It's not surprising to hear Spielman say the Vikings aren't focusing on the position, considering the presence of Kyle Rudolph on their roster. The 24-year-old was on pace for career highs in catches and yards when he broke his foot against Dallas last November and missed the rest of the season. But the Vikings will have to address some depth questions at the position, especially considering how much new offensive coordinator Norv Turner has used tight ends in the past.
Rudolph will be a free agent after 2014, though he would seem in line for a contract extension. The bigger question involves John Carlson, who restructured the second season of his five-year deal last year and could have to do so again to avoid being released. Carlson has a $5 million cap hit this season, and the Vikings would still have to count $3 million of his signing bonus against the cap over the next three years if they released him. If Carlson is healthy enough to continue his career after his concussion issues cropped up at the end of the season, he could fit nicely in Turner's offense with a restructured contract.
The Vikings also have Chase Ford, who showed flashes as a pass-catching option at the end of the season, and Rhett Ellison, who has played mostly as a run-blocker. Whoever stays could find a bigger role on offense than he's had in the past; Turner has made a career out of working with prolific tight ends, from Jay Novacek to Antonio Gates and Jordan Cameron, and while he was the offensive coordinator in Cleveland last year, the Browns employed as many multiple-tight-end sets as almost any team in the league.
They lined up with two or more tight ends on 466 plays, according to ESPN Stats & Information. That was the fourth-most in the league — for what it's worth, Mike Zimmer's old team (the Bengals) was No. 1 — and the Browns' 7.84 yards per attempt out of those sets were the seventh-most in the league.
Rudolph could be in line for a bigger role in the offense, and if Carlson is still around, he might help the Vikings create the two-tight-end passing attack they'd intended to implement when they signed him. If the Vikings decide not to keep Carlson, they'd have to determine whether Ford can fill that role, but with more opportunities likely coming to tight ends in the passing game next season, the Vikings' decisions about their tight end depth could carry greater significance.
With Turner's emphasis on multiple-tight-end sets and his use of three or more receivers (the Browns had them on 559 snaps, or 112 more than the Vikings last season), one player who could have a tough time finding a spot in Turner's offense is fullback Jerome Felton. The Browns had two running backs on the field for just 53 snaps last year — ninth-fewest in the league — and ran on just 23 of those plays. Considering Turner's intent to get Adrian Peterson more involved in the passing game, a pure blocking back like Felton might have to adapt into a more diverse role or risk being phased out. He'll be a free agent after 2015, but there's just $666,000 left on Felton's signing bonus from last spring.
The Vikings' offense, quite clearly, looks like it will be changing in 2014. And as Turner comes in, the tight ends on the roster could see a more prominent role.